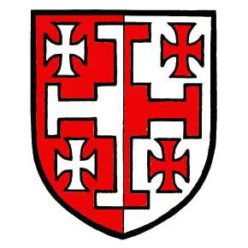 Welcome to St. Chad's Anglican Church!
The Traditional Anglican Church of San Antonio
Sunday Services:
Holy Communion at 9:30 am
MAUNDY THURSDAY SERVICE at 6:30 pm, GOOD FRIDAY SERVICE AT 12 noon. Please join us!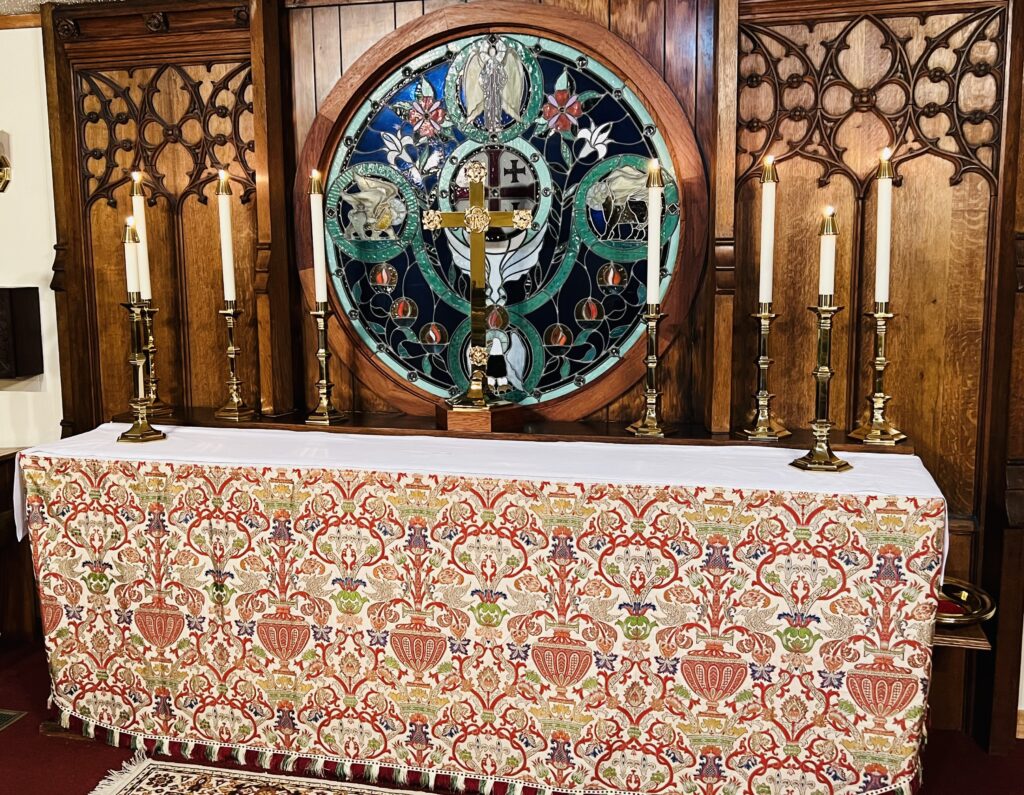 Our Mission
Our philosophy of mission can be understood through the lens of the biblical concept of witness. In Acts, the Risen Christ appeared to the apostles and said to them: "You shall receive power when the Holy Spirit has come upon you; and you shall be witnesses to Me in Jerusalem, and in all Judea and Samaria, and to the end of the earth" (Acts 1:8).
We can only be witnesses for Christ if we have experienced the power of the Holy Spirit in our own lives; we must have something to bear witness to! We cultivate this experience through prayer and practice of spiritual disciplines. Thus, our ministry is focused on what we call "The Life of Prayer." Through our commitment to prayer and spiritual disciplines, we open our lives to Christ in faith and allow him to do his work in us through the Spirit.
Spiritual growth is organic. New life is planted in us in baptism through faith. That life grows as it is nourished and trained by faithful habits – just as babies grow as they are fed and trained. The growth we experience is our witness to the world for Christ. Consequently, true witness requires both inward transformation (a real experience of God's grace and power) and outward witness (a real desire to share that experience with others).
We believe that authentic biblical witness is communal. We are saved as the Body of Christ, not as individuals. We live the life of prayer together in the community of the church by the common "Rule" or pattern of the Book of Common Prayer, which is rooted in the Rule of St. Benedict. Within our common pattern, each person's life of prayer develops according to each person's unique temperament, gifts, and circumstances. In this way the church reflects the unity and individuality of God as Trinity. Our ministry is focused on spiritual direction. Spiritual direction is, essentially, coaching in the life of prayer that helps each person grow in prayer and service according to each person's unique gifts and calling.
We believe that authentic mission happens organically. As we live the life of prayer and experience the presence of Christ, there is a natural impulse from the Holy Spirit towards ministry. Prayer helps us to discover and develop our spiritual gifts. As Peter says, "As each has received a gift, use it to serve one another, as good stewards of God's varied grace" (1 Pet. 4:10). Our ministries typically develop as people of like mind in the church are drawn together in a common purpose to serve a particular need. Ministry is, above all, the natural impulse of each Christian to love others as he or she has been loved by Christ (1 John 4:10-11).
Our life in prayer includes seasons of fasting when we intentionally say no to things in order to say yes to God in new ways; and our life of prayer also includes seasons of feasting when we celebrate the life we have in Christ with festive gatherings. We believe the celebrations of the church are the authentic party, a participation in and a foretaste of the Kingdom of God. The world has a party to run away from the sorrow and pain of the world. The church has a party to celebrate the eternal life and communion we have in Christ.
We invite you to join us as we experience the grace and power of God through the life of prayer in our community as we strive to be faithful witnesses for Christ in the world.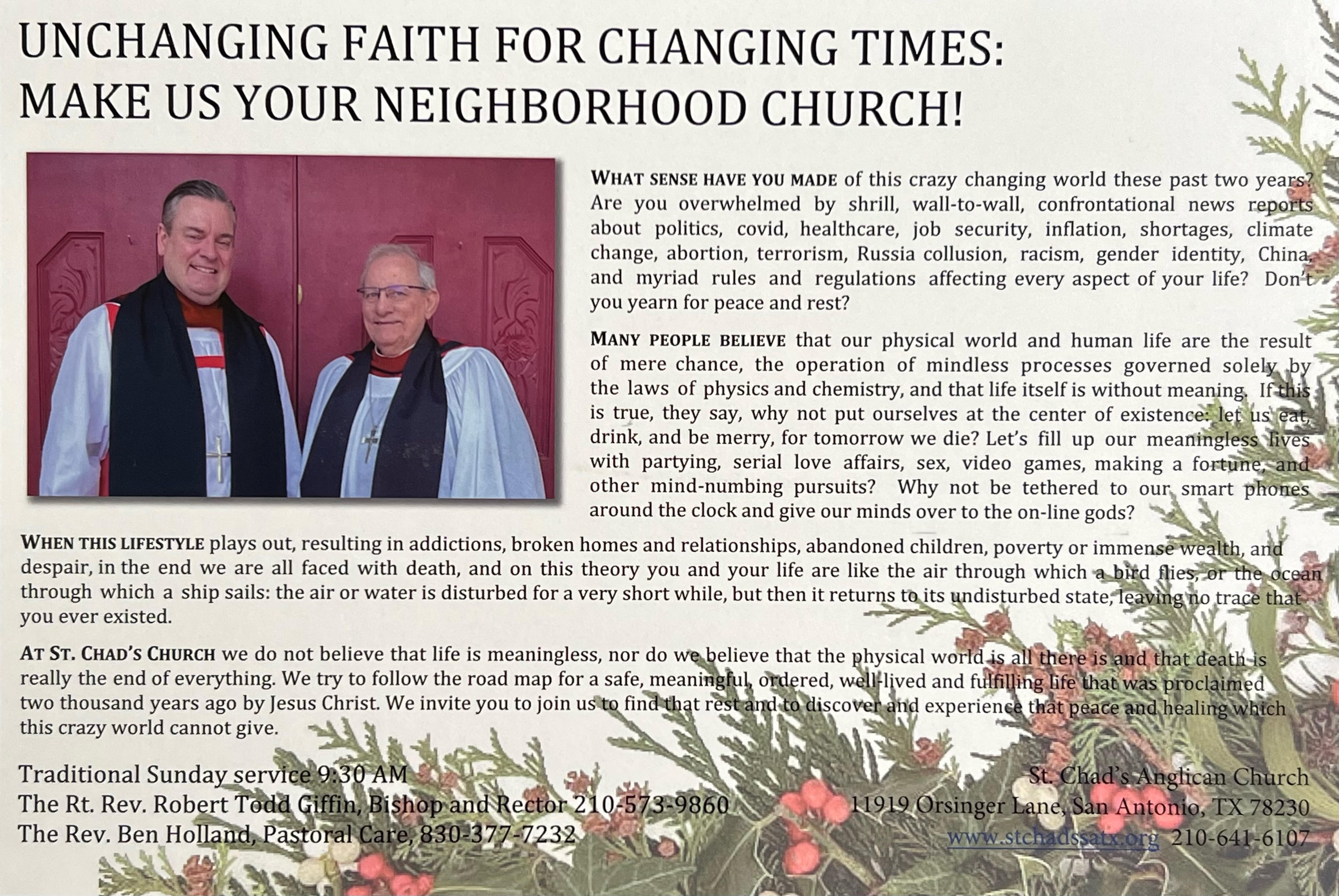 Sunday School
St. Chad's Anglican Church has an active Sunday School that is based upon the Montessori Method of Education. Mrs. Mavis Caudill is the Sunday School instructor and would love to meet your child! Stop by and see what all the excitement is about!
Little Free Library
Welcome to one and all! Our Little Free Library is a free book exchange located on the west side of the church next to Orsinger Lane. We also have a shady spot for you to sit while making your selection.
Please take a book (or two) from the Library. You do not need to return the book. Should you like to share a book, please select one that is a good choice for the whole neighborhood. Especially the children.
Little Library book exchanges function on the honor system; everyone contributes to ensure there are always quality books inside. This way, we all win!
St. Chad's is proud to be part of the Diocese of the Central and Western States, Anglican Province of America.
Please visit their websites at http://www.dcwsapa.org and http://www.anglicanprovince.org