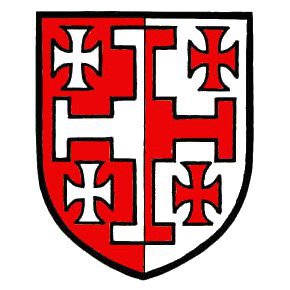 St. Chad's is comprised of a rich and diverse group of committed Christian believers, literally from all over the globe.
We have clergy from Africa and California, vestry members from Canada and Nigeria, and parishioners from England and Australia.
The great state of Texas is well represented, from Fort Worth to Houston, and from Lubbock to Longview, and of course you'll know these parishioners from their "dyed in the wool" accents!
We are teachers, medical center professionals, business executives, small business owners, and retirees.
Active duty military and veterans from all branches are among us, with the Army, Navy, Marine Corps and Air Force all represented.
You'll even find opera singers and former minor league baseball players at St. Chad's!
Above all else, we are an Anglican parish that willingly serves the Lord, that looks out for each other lovingly and dutifully, and that embraces the opportunity to show and share our faith with any and all.
We are St. Chad's Anglican Church, and we invite you to join us!
St. Chad of Lichfield, Bishop
(Died - March 2, 672. Feast Day - March 2)
---
Chad, or Ceadda, was born in ancient Britain, probably about 620, to Saxon parents. His people had been pagan, but his parents were baptized by St. Aidan. Thus, along with several others, he represents Celtic, rather than Roman Christianity.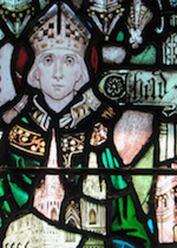 As a youngster he was given to the bishop of North Umbria to be both pupil and attendant. Later he seems to have gone to the Irish monastery- schools established by St. Patrick, and then to Iona, where he was ordained priest, and, after the death of two of his brothers in a plague, eventually became head of a small abbey near Whitby.
Chad is perhaps best known for not being Archbishop of York. In mid-life he returned to North Umbria, being called by its king to be chief bishop there (thus, Archbishop of York).  He was elected, and duly installed, but various persons raised objections (on the grounds that his consecrators were bishops who followed the Celtic church calendar and customs rather than the customs then being imported from the continent and from Rome). Not wishing to cause division in the Church, Chad withdrew.
He went to half-pagan Mercia as a missionary bishop, and made his home in Lichfield. He was there for only two and a half years before his death, but he made a deep impression, traveling on foot throughout his territory.
His Character
This tendency to walk rather than ride a horse was a deliberate attempt by Chad to operate at the level of the peasants for whom he cared.
He seems to have won his saint ship by this, and by the power of his praying. Although, like many of his day, he was terrified by thunderstorms, he would spend the duration of a storm praying constantly for all who were exposed to its fury, and gave the advice that when in great fear we should pray for others, and if possible to help them, forgetting ourselves, our spirits will be calmed.